SmartLIGHT Color GU5.3
Color every moment of your life. With the SmartLIGHT collection, it's easy to light up your mood with over 16 million colors.
Main features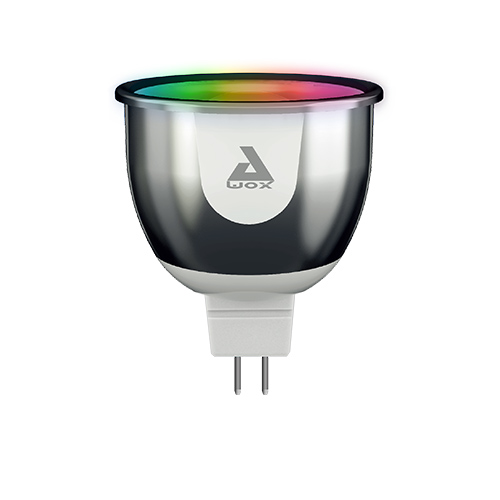 +16 million colors
SmartLIGHT Color GU5.3 is a Bluetooth Low Energy LED lightbulb you can control wirelessly from a smartphone or tablet without having to purchase additional materiel such as a bridge or a hub. Use the free AwoX SmartCONTROL app to control colors & intensity.
Hardware
CONNECTIVITY
Bluetooth®
Free Application on Google Play, Apple Store and www.AwoX.com.
POWER
LED BULB 12V, GU5.3 socket
Energy Label: A+
DIMENSIONS
Millimeters: 54 (H), 46 (diam.)
WEIGHT
80g approx.
Software
COMPATIBILITY
Apple iPhone 4S, iPhone 5, 5S, 5C, 6, 6S and above; iPad (3rd gen.), iPod (5th gen.), iPad mini
Android 4.3 or superior with Bluetooth® 4.0 minimum
LIGHT
Energy saving LED
White and color light
16 million possible color combinations
Adjustable Intensity
Power: 4 W equivalent to 25 W incandescent
220 lumens